The Yokai Episode
11 months ago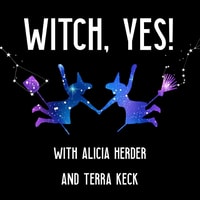 Have you ever felt like someone or someTHING was watching you in the middle of the night? Have you ever walked down a road in the early hours of the morning and seen something out of the corner of your eye? Have you ever felt like the set of measuring cups in your cabinet was sentient and DTF? Well, if all these things happened to you in Japan, you might have run across the mischievous spirits known as the Yokai.
Terra and Alicia discuss the real-life Pokédex, Toriyama Sekien's codex of yokai, why lady demons are always so tragic, the political implications of the Tengu, and of course, all things Hayao Miyazaki. Plus, a little girl who has been haunted by the ghost of Margaret Hamilton, the Satanic Temple Arsonist, and the long-awaited pardoning of Salem witch, Elizabeth Johnson Jr.
This episode was brought to you by Blessed Be Magick!
With code: WITCHYES15 Save 15% OFF all full-priced talisman jewelry at BlessedBeMagick!
Hosted by Alicia Herder and Terra Keck.
Produced by Marcel Pérez.
With Research Assistance provided by Brian Rainey.
Creative Directing by Mallory Porter.
Music by Kevin MacLeod.
Check out our merch on Teepublic!
"Spellbound" Kevin MacLeod (incompetech.com) Licensed under Creative Commons: By Attribution 3.0
Witches in The News:
The Lost Sesame Street Episode that was too scary for children
Pardoning Elizabeth Johnson Jr
Support Witch, Yes! by contributing to their tip jar: https://tips.pinecast.com/jar/witch-yes
Find out more at https://witch-yes.pinecast.co
This podcast is powered by Pinecast.