Oh The Witchy Places You'll Go
3 months ago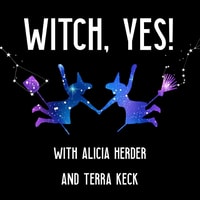 Let's take a magical trip and just be witchy. In this episode, we'll tell you where to go, what's witchy/magical to do there, and maybe even how? Witch, Yes! The Travel Agency loves to serve. Plus, Witches In The News, and tips for a Travel Altar to take on this journey.
Produced by Marcel Pérez.
Creative Directing by Mallory Porter.
Music by Kevin MacLeod.
Check out our merch on Teepublic!
"Spellbound" Kevin MacLeod (incompetech.com) Licensed under Creative Commons: By Attribution 3.0
Celebrating The 400th Birthday Of Rebecca Nurse
Support Witch, Yes! by contributing to their Tip Jar: https://tips.pinecast.com/jar/witch-yes
Find out more at https://witch-yes.pinecast.co
This podcast is powered by Pinecast. Try Pinecast for free, forever, no credit card required. If you decide to upgrade, use coupon code r-c025f2 for 40% off for 4 months, and support Witch, Yes!.