UNLOCKED: Hecate (Pronounced: Badass)
6 months ago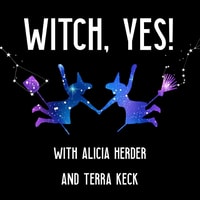 Are you not a Patron of the Witch, Yes! Patreon? You ever wanted to know what kind of awesome content you're missing out on? Alright fine, here is a little taste.
While Alicia, Terra, and Marcel are all out on a vacation, here is an unlocked episode from our Patreon catalog. Enjoy, and then consider joining Patreon for $5 and up to get access to episodes like this and MORE!
Hosted by Alicia Herder and Terra Keck.
Produced by Marcel Pérez.
Creative Directing by Mallory Porter.
Music by Kevin MacLeod.
Check out our merch on Teepublic!
"Spellbound" Kevin MacLeod (incompetech.com) Licensed under Creative Commons: By Attribution 3.0
Support Witch, Yes! by contributing to their Tip Jar: https://tips.pinecast.com/jar/witch-yes
Find out more at https://witch-yes.pinecast.co
This podcast is powered by Pinecast. Try Pinecast for free, forever, no credit card required. If you decide to upgrade, use coupon code r-c025f2 for 40% off for 4 months, and support Witch, Yes!.