The Ancient Secrets of The Evil Eye
9 months ago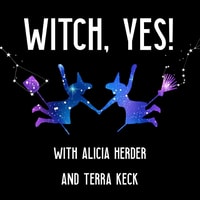 I got my Evil Eye on you. Have you ever felt like bad things happen to you more than the average witch? Do you sense that those around you are jealous of how beautiful, rich, and physically strong you are? Or do you feel like expanding your magical amulet collection? Well, you've come to the right episode.
On today's episode, Alicia and Terra discuss the differences between The Evil Eye Curse and the Evil Eye Talismans. This ancient dark magic exists all across the globe and can be traced as far back as the 16th century BCE (way before either of our dads were born). From the Turkish Nazar to the mysteries of the Hamsa (or Hand of Fatima), baby witches will learn all about Evil Eye symptoms, diagnosis, remedies, and prevention. On today's witches in the news: a missing pagan tenant in the UK, a witch burning in Montana, and the latest from the Witches of Tiktok.
Plus! A very special Patreon Problem. Can the Witch, Yes! Team solve the mystery of the missing Nazar?
This episode was brought to you by Blessed Be Magick!
With code: WITCHYES15 Save 15% OFF all full-priced talisman jewelry at BlessedBeMagick!
Hosted by Alicia Herder and Terra Keck.
Produced by Marcel Pérez.
With Research Assistance provided by Brian Rainey.
Creative Directing by Mallory Porter.
Music by Kevin MacLeod.
Check out our merch on Teepublic!
"Spellbound" Kevin MacLeod (incompetech.com) Licensed under Creative Commons: By Attribution 3.0
Witches in The News:
Woman charged with murder claims she was "burning a witch"