Astral Projection
a year ago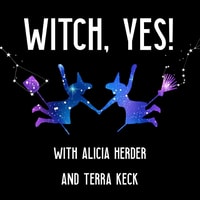 Welcome to Witch, Yes! To kick off Season 2, we are diving headfirst into Astral Projection: how to do it, why you'd do it, and even a few reasons for why you should think twice before doing it. Witches in the News makes its return from sabbatical, and we leave the episode with a "Life of the Party" Glamour Spell.
Hosted by Alicia Herder and Terra Keck.
Produced by Marcel Pérez. Episode edited by Terra Keck. Additional editing support by Michael Brobinskoy.
Creative Directing by Mallory Porter.
Music by Kevin MacLeod.
"Spellbound" Kevin MacLeod (incompetech.com) Licensed under Creative Commons: By Attribution 3.0
Support Witch, Yes! by donating to their Tip Jar: https://tips.pinecast.com/jar/witch-yes
Find out more at https://witch-yes.pinecast.co
This podcast is powered by Pinecast. Try Pinecast for free, forever, no credit card required. If you decide to upgrade, use coupon code r-c025f2 for 40% off for 4 months, and support Witch, Yes!.