The Witch Hunter's Manual
a year ago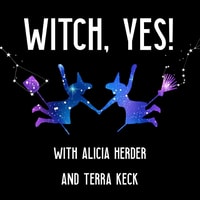 Welcome to the Witch, Yes! Unofficial Book Club. The Malleus Maleficarum: the most thorough Witch Hunting manual to date or a psychopath's anti-feminist manuscript elevated by Europe's fear during the Middle Ages? A thorough look into this document, plus Witches in the News and a Spell for when the Weight of the World is on your shoulders.
Hosted by Alicia Herder and Terra Keck.
Produced and Edited by Marcel Pérez.
Creative Directing by Mallory Porter.
Music by Kevin MacLeod.
"Spellbound" Kevin MacLeod (incompetech.com) Licensed under Creative Commons: By Attribution 3.0
HBO MAX calls for prequel pilot for the famed Halloween movie, Practical Magic Link 2
Branded 'witch' woman assaulted in Nepal
Step Aside Silicon Valley, here come the Tech Witches
Support Witch, Yes! by donating to their Tip Jar: https://tips.pinecast.com/jar/witch-yes
Find out more at https://witch-yes.pinecast.co
This podcast is powered by Pinecast. Try Pinecast for free, forever, no credit card required. If you decide to upgrade, use coupon code r-c025f2 for 40% off for 4 months, and support Witch, Yes!.