How To Make Your Wedding Witchy
11 months ago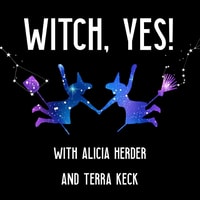 There's nothing like a lovely witchy wedding. But what can you do to make sure that the wedding is witchy enough? From the proposal and sending invites out - to the ceremony itself, Terra and Alicia will give you and your coven all the details needed to have your wedding planner busy enough to earn that coin. Plus witches in the news and a spell to make sure you never get married again. (Yes this episode will cover both ends of the wedding spectrum, how to "I do" and how to "I do not.")
This episode was brought to you by Blessed Be Magick!
With code: WITCHYES15 Save 15% OFF all full-priced talisman jewelry at BlessedBeMagick!
Hosted by Alicia Herder and Terra Keck.
Produced by Marcel Pérez.
With Research Assistance provided by Brian Rainey.
Creative Directing by Mallory Porter.
Music by Kevin MacLeod.
Check out our merch on Teepublic!
"Spellbound" Kevin MacLeod (incompetech.com) Licensed under Creative Commons: By Attribution 3.0
Witchers In The News:
Here are things you can do:
Engage your friends to take a stand against gun violence.
Join a local gun violence prevention organization. Visit States United to Prevent Gun Violence, the national umbrella organization for state gun violence prevention organizations to find a group in your state.
Contact your elected representatives and demand that they support and advocate for effective gun violence prevention legislation. Call your U.S. Senators and Representatives via the U.S. Capitol Switchboard at 202-224-3121 
Here is what you can tell your elected representative to do: - Disarm All Domestic Abusers - Fund Local Violence Prevention and Intervention Programs - Require Background Checks for All Gun Sales - Ban Assault Weapons and High-Capacity Ammunition Magazines - Make Extreme Risk Protection Orders Available in Every State
Donate to Everytown or to the Violence Policy Center
Support Witch, Yes! by contributing to their tip jar: https://tips.pinecast.com/jar/witch-yes
Find out more at https://witch-yes.pinecast.co
This podcast is powered by Pinecast.