The Last Witch of Scotland: Helen Duncan
3 months ago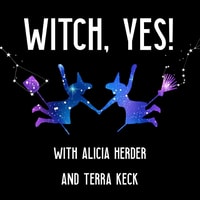 Scotland has been the Death Star of Witches in The News for the past year and we've decided to dedicate an entire episode to a woman who deserves a pardon just as much as anyone. The last witch of Scotland, Helen Duncan, was a many things. A charlatan, a medium, a wife of 100 children apparently, but was she a witch? This woman's reputation was dragged through the mud for doing the same thing tent revivals have been doing for decades! Alicia and Terra question what make a religion a religion, how sexism plays a roll in court cases, the radical performance art of seances and how the hell the United Kingdom government had time to do all of this when it was trying to KILL HITLER. Plus! A very special witches in the news. Could Ireland pardon a group of "witches" on a remote island 100 years later? How can we help children in Nigeria that continue to be accused of witchcraft and displaced by their families and communities? And the rapidly approaching season of the spooky. Could halloween cheery be coming from an unexpected place this October?
Hosted by Alicia Herder and Terra Keck.
Produced by Marcel Pérez.
With Research Assistance provided by Brian Rainey.
Creative Directing by Mallory Porter.
Music by Kevin MacLeod.
Check out our merch on Teepublic!
"Spellbound" Kevin MacLeod (incompetech.com) Licensed under Creative Commons: By Attribution 3.0
Witches in The News:
Larger-Than-Life Halloween Decorations
Support Witch, Yes! by contributing to their tip jar: https://tips.pinecast.com/jar/witch-yes
This podcast is powered by Pinecast.