Mayan Astrology, Ancient Horoscopes, and YOU (Part 2)
2 months ago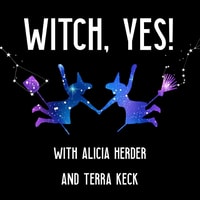 🌟✨ Ready for round two of cosmic revelations? Dive deeper into the Mayan cosmos with us in Part 2 of "Mayan Astrology, Ancient Horoscopes, and YOU."
In this episode, we're taking the cosmic exploration to the next level.
So, grab your pumpkin-spiced cosmic latte (or your favorite beverage), and join us for a cosmic journey that'll leave you stargazing in wonder. Tune in now and let's keep riding the celestial waves! 🚀🌌 PLUS Witches in the News is BACK and we've got a protection spell to keep you safe as we enter SPOOKY SEASON.
Hosted by Alicia Herder and Terra Keck.
Produced by Marcel Pérez.
With Research Assistance provided by Brian Rainey.
Creative Directing by Mallory Porter.
Music by Kevin MacLeod.
Check out our merch on Teepublic!
"Spellbound" Kevin MacLeod (incompetech.com) Licensed under Creative Commons: By Attribution 3.0
Was the Montgomery Brawl caused by Witches???
MayanAstrology
AncientHoroscopes
CosmicWisdom
AstrologyPodcast
MayanCosmology
SpiritualInsights
CosmicExploration
AncientWisdom
CelestialKnowledge
PodcastMagic
witchypodcast
Support Witch, Yes! by contributing to their tip jar: https://tips.pinecast.com/jar/witch-yes
This podcast is powered by Pinecast.