Tarot Reversed Reversed!
8 months ago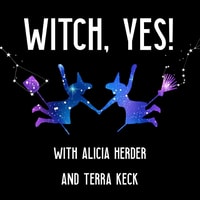 Everybody clap your hands!
Here we go, let's get back to our roots and flip the tarot cards we've talked about in Season 1. Tarot Reversed. Do you have to actually read the card if it shows up flipped or can you correct it? How do you even pull tarot cards physically? Alicia and Terra get to the heart of the cards and fill you in on everything you need to know to read all the cards. Plus Witches in the News, and a spell for forgiveness.
This episode is brought to you by: Magic Mind!
Go to: https://www.magicmind.co/yes
And get 40% off the total price of your subscription for the next 10 days
Or get 20% off with your one-time purchase using our code: YES20
Hosted by Alicia Herder and Terra Keck.
Produced by Marcel Pérez.
With Research Assistance provided by Brian Rainey.
Creative Directing by Mallory Porter.
Music by Kevin MacLeod.
Check out our merch on Teepublic!
"Spellbound" Kevin MacLeod (incompetech.com) Licensed under Creative Commons: By Attribution 3.0
Witches in the News Links:
Today we're talking about How to Celebrate Mabon!
This podcast is powered by Pinecast.