The Horror! Blood Magic!
3 months ago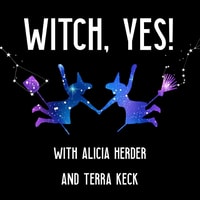 You can tell Terra didn't edit this episode because no crow sounds were used. It's Blood Magic! Gross, insane, and alluring (if you're a vampire). Come get your iron and learn all about blood magic. Plus Witches in the News, and a recipe for Soul Cake!
Hosted by Alicia Herder and Terra Keck.
Produced by Marcel Pérez.
Creative Directing by Mallory Porter.
Music by Kevin MacLeod.
Check out our merch on Teepublic!
"Spellbound" Kevin MacLeod (incompetech.com) Licensed under Creative Commons: By Attribution 3.0
450 g (3 1/2 c) Flour (wheat or gluten free)
7.5 g (1 1/2 tsp) Baking Powder
4.8 g (2 tsp) Pumpkin Pie Spice
5.6 g (7/8 tsp) Salt
175 g (7/8 c) Vegan Sugar (I use Zulka brand)
170 g (12 TBS) Vegan Stick Butter (I use Earth Balance)
5.0 g (1 tsp) Vanilla Extract
60 g (1/4 c) Plain Vegan Yogurt (I use Silk Soy)
135 g (1/2 c + 1 TBS) Plant Milk (I use Silk Original Soymilk)
100 g (1/2 c) The fun (chocolate chips, dried fruit, nuts, whatever!)
Support Witch, Yes! by contributing to their Tip Jar: https://tips.pinecast.com/jar/witch-yes
Find out more at https://witch-yes.pinecast.co
This podcast is powered by Pinecast.