Satan: The Zaddy of History
a year ago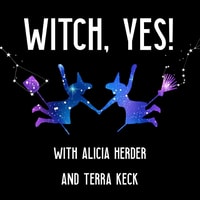 Today on Witch, Yes!, we talk about the biggest bad boy in the game —- Mr. Satan. The Prince of Darkness is in good company as we talk about our Fundraiser for Safe Child Africa, The Jersey Devil, and a Spell to Keep Your Secrets…Secret.
Enter to win our Tarot drawing by donating to Safe Child Africa
Hosted by Alicia Herder and Terra Keck.
Produced and Edited by Marcel Pérez.
Creative Directing by Mallory Porter.
Music by Kevin MacLeod.
"Spellbound" Kevin MacLeod (incompetech.com) Licensed under Creative Commons: By Attribution 3.0
Support Witch, Yes! by donating to their Tip Jar: https://tips.pinecast.com/jar/witch-yes
Find out more at https://witch-yes.pinecast.co
This podcast is powered by Pinecast. Try Pinecast for free, forever, no credit card required. If you decide to upgrade, use coupon code r-c025f2 for 40% off for 4 months, and support Witch, Yes!.