Everything's Coming Up Roses: Flower Magic
1 year ago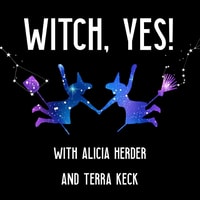 Roses are red Violets are blue This episode is sweet And so are YOU!
Terra and Alicia take you through several different arrangements of floral magic, why flowers are the way that they are, how to use flowers in your rituals, and more! Plus Witches in the News, and a FUNKY fertility spell.
Hosted by Alicia Herder and Terra Keck.
Produced by Marcel Pérez.
With Research Assistance provided by Brian Rainey.
Creative Directing by Mallory Porter.
Music by Kevin MacLeod.
Check out our merch on Teepublic!
"Spellbound" Kevin MacLeod (incompetech.com) Licensed under Creative Commons: By Attribution 3.0
Britain's First Official Witch
Minnesota Man Kills Ex-Girlfriend for being a Witch
A Japanese 'killing stone,' Cracks Open Releasing Evil Spirit
Keywords: flowers, floral, gardens, groves, buds, bouquets, florists, fleur
Support Witch, Yes! by contributing to their Tip Jar: https://tips.pinecast.com/jar/witch-yes
Find out more at https://witch-yes.pinecast.co
This podcast is powered by Pinecast.