Welcome to The Coven: Advanced
4 months ago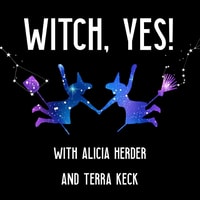 Googoo gaga, we're 5 years old! To start off season 5, Alicia and Terra return to their first ever episode "Welcome to The Coven." We're talking what we've learned, how we've grown and all the drama drama drama of a witch community with growing pains. What is the modern witch? Who can be one and who should maybe think twice? In what ways are contemporary witches responsible for the far-right, anti-vaxx movement? In a world increasingly rejecting institutions, where does that leave the biggest institution in paganism (especially those who cannot evolve with the times)?
Is this your first episode? Oh what a treat! Alicia and Terra have created a newly updated "Witchy Starter Pack," no capitalism necessary, to get you started on your journey. The secret: you were the magic all along.
Hosted by Alicia Herder and Terra Keck.
Produced by Marcel Pérez.
Creative Directing by Mallory Porter.
Music by Kevin MacLeod.
Check out our merch on Teepublic!
"Spellbound" Kevin MacLeod (incompetech.com) Licensed under Creative Commons: By Attribution 3.0
Witches in The News:
United Nations Funds Major Witch Project